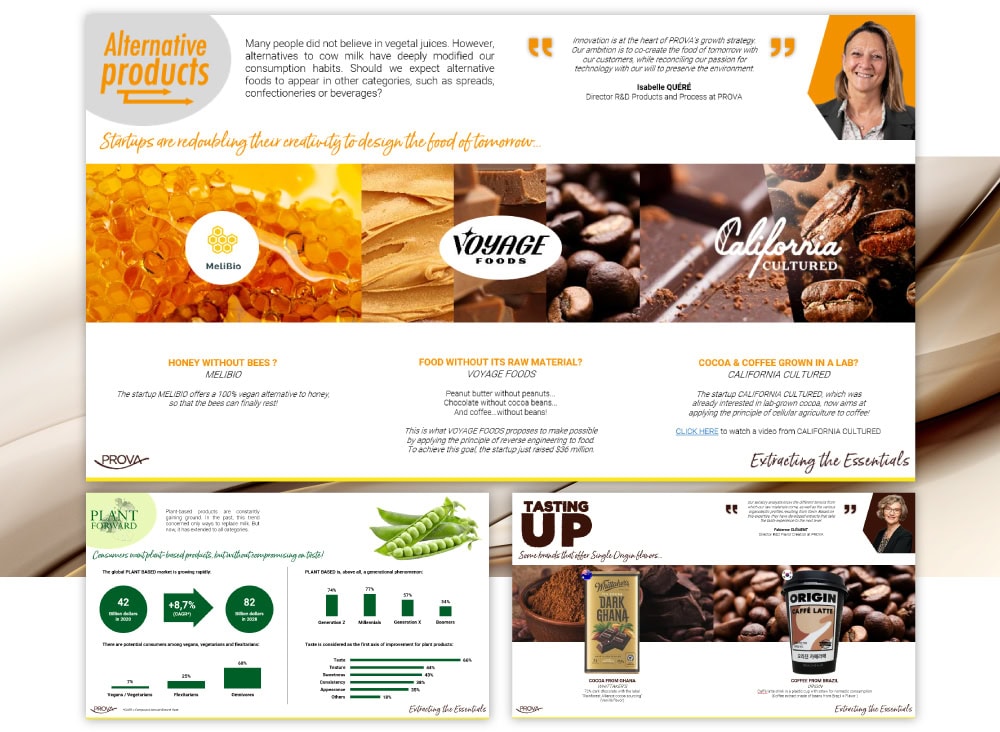 "Extracting the best from our expertise because taste is our primary objective".
Our teams of experts: engineers, R&D department, product managers, CSR, studies, aromatic laboratory have worked on olfactory and gustatory analyses with respect to people, animals and the environment in order to identify the 10 market trends that will define the year 2023.
More committed food and beverages, in line with our ethical vision of the food industry. Our commitments and sustainable actions on a daily basis reflect the human nature of our company.
Innovation and the food of tomorrow is our leitmotiv: "More than ever, consumers are aware that we are what we eat".
In this research we have tried to target the consumers' demands towards well-being by listing the unique products on the market.
A real invitation to travel!
"Innovation is at the heart of PROVA's growth strategy. Our ambition is to co-create the food of tomorrow with our customers, while reconciling our passion for technology and our desire to preserve the environment," explains Isabelle Quéré, PROVA's Director of Product and Process R&D.


Nous sommes heureux de partager ces tendances et espérons qu'elles vous inspireront.
We wish you a year 2023 fully flavored!