New concepts developed on the basis of great classics to offer a whole new experience.
Christophe Vicente-Folch
Pastry Chef
When did you know that you were going to become a pastry chef?
My father is a cook and has always inspired me. When I was 12 years old, I enrolled in a pastillage class (artistic piece made of sugar). To confirm my desire to go into pastry making, I did my internship in the 9th grade in an association for the promotion of food arts (APAA) and this internship confirmed my desire to go in this professional direction.
Why join a flavor company ?
After having worked for some great companies (Lenôtre, Potel et Chabot, Ladurée…) I wanted to discover another universe, that of the aromatic. This environment allowed me to express my creativity in a way that was more focused on taste than on aesthetics. I immediately fell in love with the world of aromas! I've been working in this field for 18 years now and continue to thrive.
Do you have a specialty?
I have a CAP-BEP and a Bac Pro in Pastry making with a chocolate-glazing-confectionery option, but the field that is closest to my heart and where my creativity expresses itself the most is the world of chocolate making. Chocolate, unlike other segments, allows me to combine textures (creamy, crunchy, sparkling…), flavors and tastes. I am very inspired by chocolate, the sensation in the mouth when melting, the transformation of tastes allows to innovate on the balance of tastes. The chocolate protects the inclusions from humidity, allowing a better conservation and a greater creativity.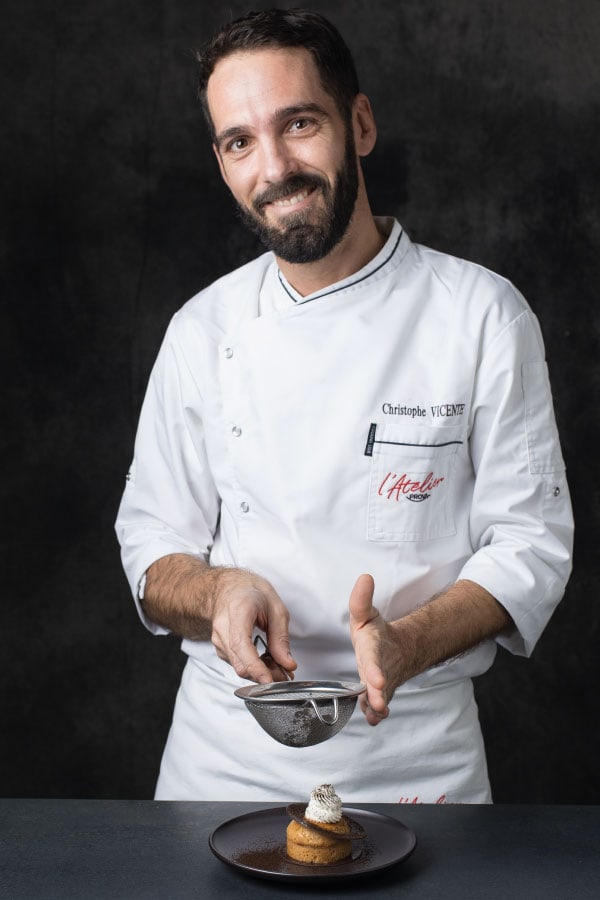 What is your inspiration when you create a recipe?
I like to observe the work of international chefs, their flavor combinations, the discovery of new ingredients. I try to identify their aromatic components in order to find new and delicious combinations that everyone can enjoy. When creating a dessert or a chocolate or ice cream creation, I also think about the association of textures to create a new sensation.
What is your favorite ingredient?
As previously mentioned, I am very sensitive to the texture of my creations, so I like to incorporate inclusions such as the feuilletine into a praline. I also particularly appreciate the contrast of flavors, and add a hint of Guérande salt in dark bitter chocolate, to trigger a unique sensation in the mouth, very addictive!
One of the ingredients that goes with the most desserts (after vanilla of course) is for me the tonka bean, with its warm caramel-vanilla-coconut notes. One of the best associations for me is tonka with blond chocolate, with a touch of Fleur de Sel! In my latest collection "Astrology & Chocolate", I call it "Willy Tonka"!
One of Prova's specialties is extracts on cocoa butter, I like to use this solution because it is easy to use and allows a lower aromatic volatility and a more intense and authentic taste (it can be added at the very end of the process). This extract can also be used to encapsulate popping candy, caramel inclusions that will then be used in ice cream, yogurt etc…
Why this collection around naturalness and sustainability?
We wanted to make the useful with the pleasant with this collection, and I am especially proud to be able to inspire the industry with more sustainable and fair ideas. I worked on details, which can make a difference. My favorite creation from this new collection is a chocolate capsule that mimics the shape of a coffee capsule, and is filled with an RA certified coffee extract. The idea behind this concept was to eliminate this everyday waste. What could be useful in everyday life. And how to transcribe this idea with chocolate. This chocolate is intended to be incorporated into a hot drink (water-based, milk-based, vegetable-based…) and thus to reconstitute a gourmet drink without generating packaging waste.
I have always been very committed to the environment, and this on a daily basis. The implication for this collection was therefore particularly strong and striking for me. I hope it will inspire small or big changes.
What is the creation you are most proud of?
It is a trompe l'oeil, a nut made of blond chocolate, with a natural honey aroma, and on which I placed a walnut kernel. I am very fond of the association between honey and walnut, whether it is in a salad or a dessert! The idea of combining the visual with this flavor combination makes it a very gourmet bite!
I would also like to mention my latest creation, which is part of the new Naturality and Sustainability collection, the "Macadwich". It is an organic ice cream, flavored with our organic coconut flavor, between two macaroon shells, flavored with our organic cocoa extract. I imagined this creation to be consumed in summer on the edge of a beach, while getting lost in the alleys of a city, or a winter evening in family. All this, while enjoying yourself, and without getting your fingers dirty (or washing the dishes haha)! This creation can be declined endlessly by inserting textures such as mochi, meringue etc. in the heart of the macaroon, or by combining different tastes such as rum or white chocolate!